Doctor Mo. is simply named after the shape of the bag "Doctor Bag", one of the versatile, classic and ageless style bag.
The bag originally made for doctors to carry medical equipment for making house calls had rounded sides, a flat bottom, and a single top handle with a frame and clasp enclosure. Thus, it is considered to be relatively easier to carry compared to other types.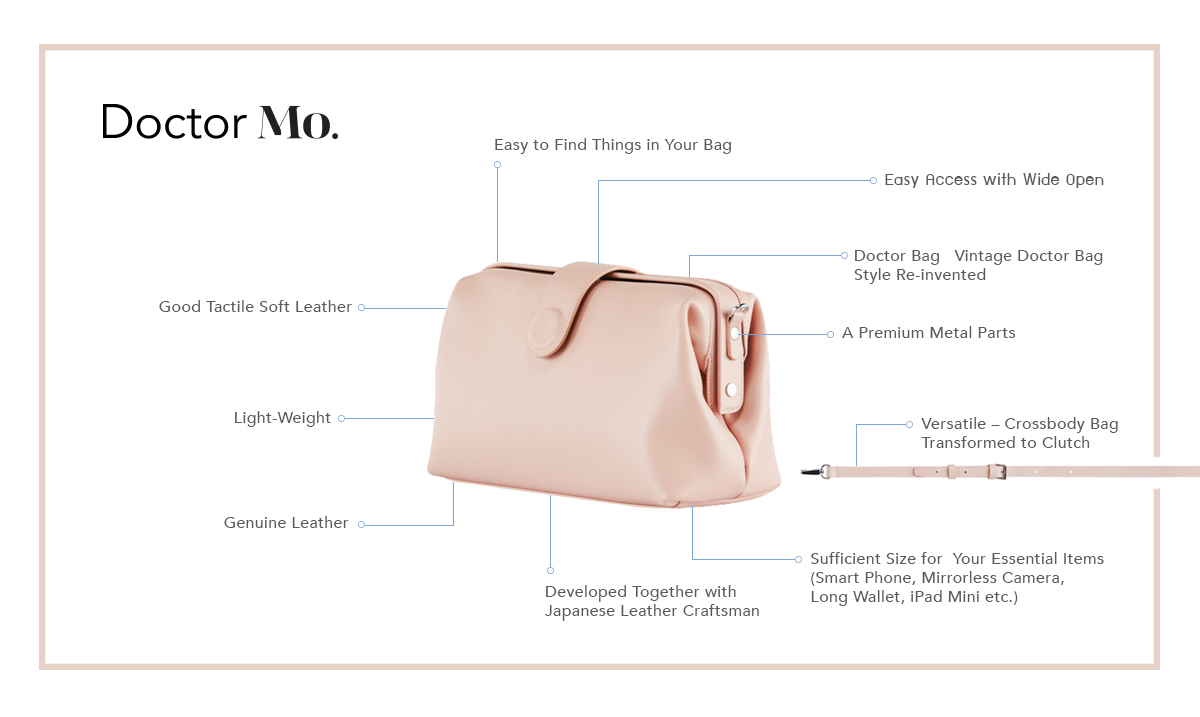 We have re-invented Doctor Bag into a casual version that fits with everyday lifestyle for today's women. Crafted together with our Japanese technician, we have perfected the design by balancing the craftsmanship, form & function in one.
We love to see you in your individual Mo. style, so we will personalise your Doctor Mo. as our thank you gift from Mo. designer team.  We hope you love Doctor Mo. as much as we do.
Get Better Soon,
Doctor Mo.
Press
Featured in
Vogue /
The Cloud  /
Marketeer /
A Day /
Cleo /
Praew /
BK Magazine /
Soimilk
Design Patents
// Mo. 80 – August 2016 – Design Patent
// Doctor Mo. Original – March 2017 – Design Patent
// Doctor Mo. Luxe – July 2017 Design Patent
// Mo.22 Mo. x Painkiller – February 2018
// Mo. Tate Collection – March 2018
// Who's Next , Paris, France 2018
// Full Moon – November 2018 – Design Patent Pending
// Mo. x Thai Artists – December 2018
// Doctor Mo. Plus – January 2019
// Mo. Pocket – March 2019
// Mo. Snatch – August 2019
// Doctor Mo. Box20 – December 2019
// Mo. 1920 Belt Bag – May 2020
// Doctor Mo. Box24 – July 2020
// Mo. Smith – July 2020 – Design Patent Pending
// Mo. Pie – September 2020 – Design Patent Pending
// Doctor Mo. Box30 – October 2020
// Mo. Milk – December 2020
// Mo. Smith Junior – January 2021
// Mo. x Mae Teeta – March 2021